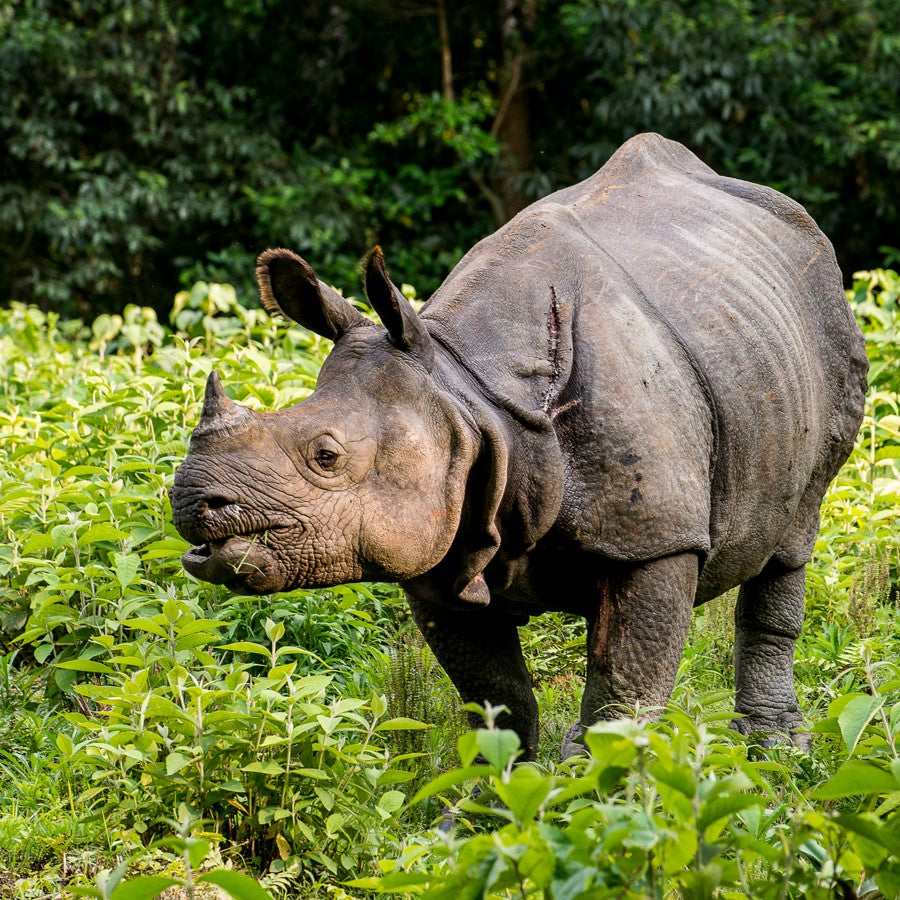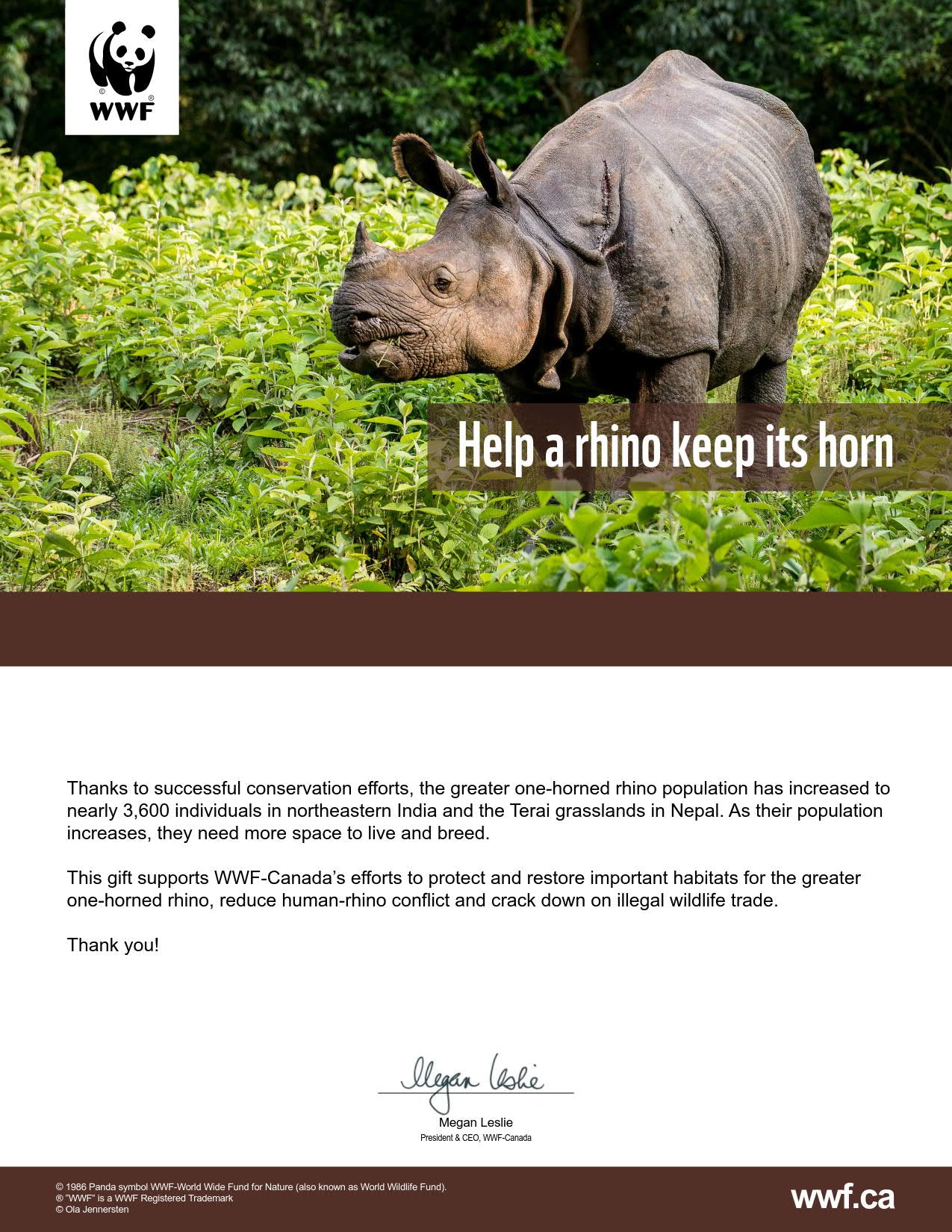 ensure a rhino keeps its horn
---
The greater one-horned rhino is the largest Asian rhino species. Once widespread across the northern part of the Indian sub-continent, it is often characterized by a single black horn and armour-plate appearance.
Though they might look tough, the greater one-horned rhino was very close to extinction in the early 20th century. Thanks to successful conservation efforts, populations have increased to nearly 3,600 individuals in northeastern India and the Terai grasslands in Nepal. But the fight isn't over yet. In a human-dominated landscape, the greater one-horned rhino lives adjacent to cultivated areas, often resulting in human-rhino conflicts. Poaching for the illegal trade of rhino horns also remains a threat to their survival.

With your gift of $25.00, you will be supporting WWF-Canada's efforts to restore and protect habitat in Nepal for the greater one-horned rhino.
Personalize your certificate
Tax receiptable amount: $25.00
Step 1 of 2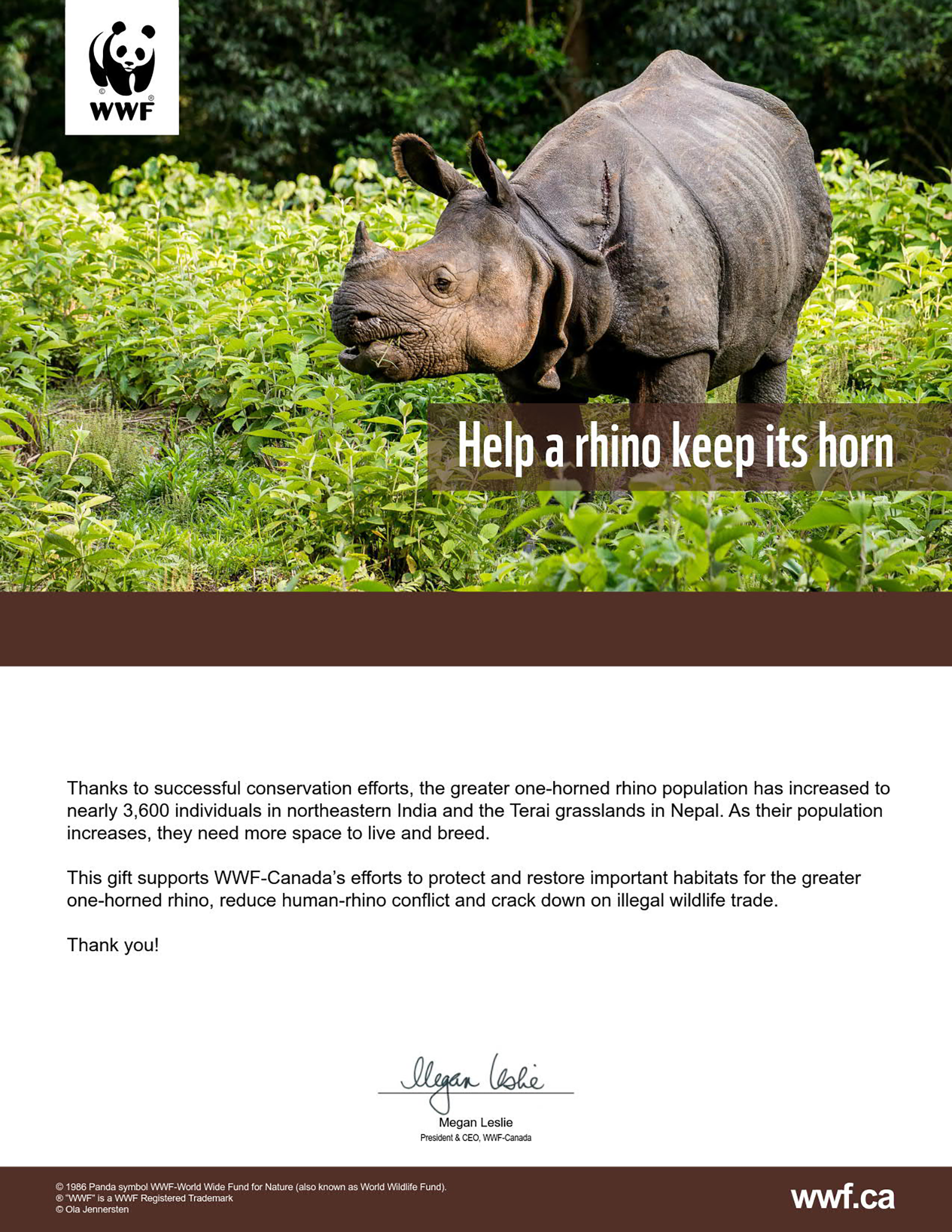 A unique gift for
Thanks to ,
you have helped ensure a rhino keeps its horn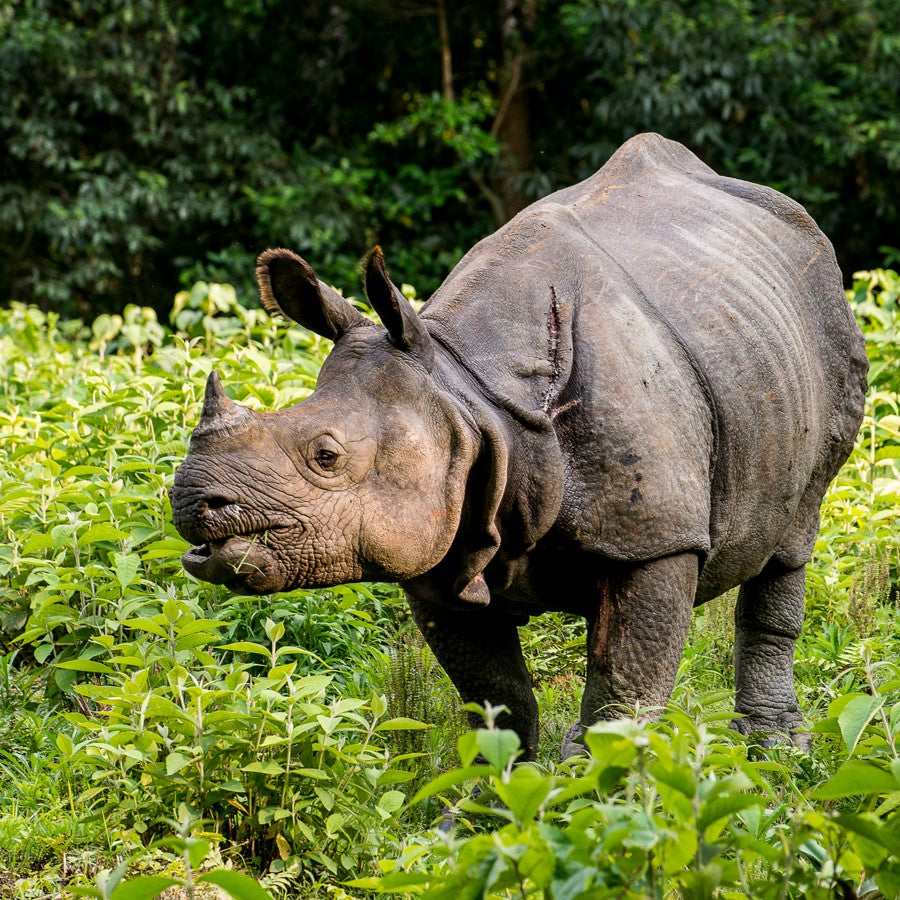 Virtual gifts are a sustainable digital gift option that directly supports unique conservation efforts of your choosing, such as protecting polar bear dens and keeping carbon in the ground. Your gift will be delivered by email as a personalized e-certificate at the date of your choosing. These make great last-minute gifts and are perfect for people who don't want to receive a physical product.

The purchaser will also receive a charitable tax receipt in the full amount of the gift you make for all virtual gifts.

View our collection of Virtual Gifts here.
Do I get a tax receipt with my purchase?

Yes, all virtual gift purchases are eligible for a tax receipt. The purchaser will receive a tax receipt valued at the full amount of the gift.

Upon completing your order online, you will receive an electronic copy of your tax receipt at the email address provided. Your tax receipt will be sent separately from your order confirmation, within 24 hours of our purchase. If you do not receive your tax receipt after 24 hours, please check the junk mailbox of your email. If you still cannot find your tax receipt, please contact us atgifts@wwfcanada.org or toll-free at 1-800-26-PANDA (1-800-267-2632).
How does my purchase help wildlife?

Your purchase helps support the conservation work that our scientists undertake to protect wildlife and their habitats. For example, e-store purchases help support narwhal tagging and research taking place through our Arctic Species Conservation Fund. This work helps us learn more about distribution, behaviour, and the impacts of underwater noise on narwhals, inspiring actions that safeguard the species.
This product has no reviews yet.